A SERIES OF COLUMNS ON A MODERN-DAY SUPERNATURAL RELIGIOUS EVENT
OVER 25 MILLION IN PRINT
---
Miracle at Medjugorje
---
IT IS REPORTED THAT SINCE JUNE, 1981, THE BLESSED VIRGIN MARY MOTHER OF JESUS HAS BEEN APPEARING DAILY TO A GROUP OF YOUNG PEOPLE IN A REMOTE MOUNTAIN VILLAGE OF YUGOSLAVIA.
| | |
| --- | --- |
| Contents | |
---
"You are my son..."
AS A LUTHERAN PROTESTANT, I KNEW NOTHING ABOUT THE VIRGIN MARY.
by Wayne Weible
The little hamlet of Medjugorje, Yugoslavia, is by all outward appearances a most unlikely place where an event of a supernatural religious nature would occur. It is a simple rural village of approximately 400 families, located in the remote inland mountains and hills of this communist-governed country. Accessability bij modern-day transportation, including the automobile, is difficult. Once there, tourist ameneties are almost non-existant; no hotels or motels and few eating establishments.Yet, millions of people from all over the world have come to Medjugorje during the last five years.
They have come for one reason: the reported daily appearance of the Blessed Virgin Mary, the Mother of Jesus Christ, to a group of six young people who live there. She has been appearing daily to these young people since June, 1981, bringing an urgent message to the whole world to reconcile with God now en bring peace to a dangerously troubled world.
Just as Medjugorje is an unlikely place for such an event to happen, so, too is my personal involvement with the events there. Prior to November, 1985, I knew little about the Virgin Mary outside of what is written in the bible. I knew nothing about past apparitions that had occured in Fatima, Portugal, or in Lourdes, France. That was all soon to change.
I first heard about Medjugorje in a Sunday School class I was teaching at the Lutheran Church my family and I had attended for the past five years. The subject of the lesson was modern-day miracles. Toward the end of the class, someone mentioned what was happening in Yugoslavia in this little village. She knew only that the mother of Jesus was supposedly appearing to some children and that it had been going on for some time.
As the publisher of four weekly community newspapers, and as a columnist for the past nine years, I was curious to find out more. That was my only interest; simply, that it would make a good column for the coming Christmas season.
After the class, I asked the person who had mentioned it where she had heard about it. She directed me to a mutual friend who had a book and a video tape on the background of the alledged appearances. After obtaining the material and reading the book, I still felt nothing other than curiosity. Several nights later after getting our two young children to bed, my wife, Terri, and I settled down to watch the video tape. What happened during the viewing of that video changed my life completely.
About midway through watching the film, I suddenly "felt" a strong message within myself. I really don't know how to explain it. I heard no audible voice, but the message was there just as clear as though I had actually heard it. In essence it said, "You are my son, and you are to do my Son's work. Write about the events in Medjugorje. Afterwards you will no longer be in this work (newspapers), for your life will be devoted to the spreading of the message."
Stunned and in a near state of shock, I sat up the entire night thinking about what had happened. There was no doubt in my heart about the source of the message or that it had actually happened. It was from Mary, the Blessed Virgin. I just kept wondering, why me? I knew so little and felt totally unworthy.
The columns tell the rest of the story. In December, I began a series of four columns on the apparitions. Later, other articles giving my personal feelings and updated information were added. Also, by the end of December, we were contacted by a company that owned a chain of newspapers and in March, 1986, our four newspapers were sold, leaving us with a printing company and a contract to print the same newspapers for the next four years.
Just as the Blessed Virgin Mary had predicted, my work is now dedicated to spreading the Medjugorje message on a full time basis.
For two years now, I have been traveling across the United States, and into several foreign countries such as Ireland, giving lectures on the message of Medjugorje. I have made trips there and have come to personally know many of the visionaries and priests.
All of the columns I wrote, beginning in December, 1985, are contained here. After receiving hundreds of requests for them, I decided to print them into a collected tabloid for easier distribution. The initial printing was 2,500 in September, 1986. It was thought that that would be adequate for a year, as I planned to use them only when giving talks. As of December, 1987, more than eight million copies have been sent to all corners of the world, an incredible miracle in itself since it was never intended that they be used outside of Myrtle Beach, S.C.
I hope that as you read these columns and information on Medjugorje, your life, too, will change and your relationship with God will be strengthened. Its message is simple and direct: return to the ways of God; pray as often as possible for the salvation of this world; offer penance to God by giving up useless thing in your life. In other words, live the message that is contained in the bible, for the message of Medjugorje is the message of Jesus Christ, urgently emphasized by his most holy messenger and mother, Mary.
May the peace of the Lord Jesus Christ be with you always.
---
The articles contained in this tabloid were written and published individually over a period of six months in a local newspaper in Myrtle Beach, S.C. This issue contains an updated article, current through December, 1987. Also there is an information sheet on the back for purchasing books, videos, and information on pilgrimages. Bulk quantities may be purchased. See page 7 for information.
wayne weible
---
Part 1: The Apparitions
Published Dec. 4, 1985
In the next four weeks of December, I am going to try to give as accurate an account as possible of an event allegedly occurring in a small non-descript village in the hills of cental Yugoslavia. It is a supernatural religiuos event and is therefore bound to be viewed in a skeptical sense by many; the fact that the area is heavily Catholic will add to the skepticism.
Obviously, if I personally did not believe there was something important happening here, I would not be writing about it. However, let me say from the outset, it is not an attempt to convert anyone to Catholicism, since I myself am not Catholic; it is also not an attempt to convert anyone to a belief in God. That is for the individual to determine based on information and needs. I offer it simply as information timely to the Christmas season.
For the past four and a half years now, Medjugorje (pronounced Med-u-gory), a small village in the mountain area of central Yugoslavia, has attracted worldwide attention as the place where the mother of Jesus, the Virgin Mary, is reported to be appearing almost daily to six young teenagers. As I write this, the apparitions reportedly continue every day.
Despite government attempts to discredit the apparitions and to make visits to the site difficult, millions have been and continue to come to the site to see for themselves what is happening. Yugoslavia is of course, a communist country, which does not recognize any religion or the existence of God. Yet, there is a heavily Catholic population that is grudgingly allowed to worship within their churches.
According to the children - called seers or visionaries - the message of the Blessed Virgin is simple and direct: She is appearing to the seers to tell the world of the urgency to return to the ways of God, to convert their lives to peace with God and with their fellow man. She is to give each seer 10 messages, or "secrets" of happenings that will occur in the near future. These messages will be visible signs to mankind that the apparitions at Medjugorje are real and that the conversion back to God must be started now. When she has stopped appearing to the youths--a time known only by them--a permanent sign will be left at Medjugorje. It will lead to many healings and conversions in the short time left before the messages become reality.
The way to conversion is prayer and fasting, according to the seers. Since the apparitions began on June 24, 1981, the seers spend as many as six hours or more daily in prayer. They also fast up to three times a week on bread and water only.
The range in the age of the six young people at Medjugorje is noteworthy in view of the skepticism of such an occurrance. When the apparitions began, one was only ten years old, another was fifteen, three were sixteen and one was seventeen. Four are girls and two are boys.
Who are these young people to whom The Virgin Mary is allegedly appearing? They are all very normal, but different from each other in personality and as I have noted, in age. With one exception, all of them are of very average intelligence. The exception is Mirjana Dragicivic. She is the third oldest of the seers and attends college at the University of Sarajevo, where her family now lives.
Marija Pavlovic is the oldest of the group. She is of average height and thin and is the most serene and deeply spiritual of the seers. She plans on becoming a nun.
Vicka Ivankovic, the second oldest, also plans on becoming a nun. She has strong features and her face is very expressive. She is the charmer of the group, although there is nothing "put-on" about her.
Ivanka Ivankovic, the youngest of the four girls is the only one of the group planning marriage. She is the prettiest of the girls and seems typical of today's teenagers, but is firmly religious.
Ivan Dragicivic, the older of the two boys wants to become a priest. He is the most timid and retiring of the group and appears to be serious and pensive most of the time.
The youngest, and most lively, is thirteen-year-old Jakov Colo, who was only ten when the apparitions began. Like the others, he is quite normal.
The presence of this young, fidgety boy among the group of seers is very special in terms of authenticity of the apparitions. Comparing him to, say, our own children or brothers of this age, it would normally be highly improbable that he would go to church for two or three hours of prayer every single day, in winter and summer, in bad weather and good, and do this for well over four years, simply to make believe that he is seeing a holy apparition from God.
In fact, the age and character of all the seers and the consistency of the apparitions with them is strong evidence that something highly unusual is happening.
There is so much to tell about Medjugorje. Possibly the following excerpt, taken from a report that was sent to the Pope at the request of Mary according to the youths, will summarize this segment best. A Catholic priest named Tomislav Vlasic, who has been involved in the apparitions almost from the very first, was asked by Mirjana to do this. Here is a portion of that report:
According to Mirjana, during the apparition on December 25, 1982, the Madonna confided the tenth and last secret to her, and she revealed the dates on which the various secrets will come to pass. The Blessed Virgin revealed many aspects of the future to Mirjana, many more up to now than to the other seers. For that reson, I relate now what Mirjana told me in a conversation on November 5, 1983. I shall summarize the essential things she said, without any literal quotations. Mirjana said:
Before the visible sign is given to humanity, there will be three warnings to the world. The warnings will be warnings on the earth. Mirjana will witness them. Three days before one of these warnings, she will advise a priest of her choice. Mirjana's testimony will be a confirmation of the apparitions and an incentive for the conversion of the world. After these warnings, the visible sign will be given for all humanity at the place of the apparitions at Medjugorje. The sign will be given as the testimony of the apparitions and a call back to faith.
The ninth and tenth secrets are grave matters. They are a chasticement for the sins of the world. The punishment is inevitable because we cannot expect the conversion of the entire world. The chasticement can be mitigated by prayers and penance. It cannot be suppressed. An evil which threatened the world, according to the seventh secret, had been eliminated through prayer and fasting, Mirjana said. For that reason the Blessed Virgin continues to ask for prayer and fasting: "You have forgotten that with prayer and fasting you can ward off wars, suspend natural laws."
After the first warning, the others will follow within a rather brief period of time. So it is that people will have time for conversion.
This time is a period of grace and conversion. After the visible sign, those who are still alive will have little time for conversion. For that reason, the Blessed Virgin calls for urgent conversion and reconciliation.
The invitation to prayer and penance is destined to ward off evil and war and above all to save souls.
According to Mirjana, we are close to the events predicted by the Blessed Virgin. Because of this, Mirjana says to mankind: "Convert yourselves as quickly as possible. Open your hearts to God."
Father Vlasic gave a little additional information about the secrets during a taped interview in August, 1983: "They (the seers) say that with the realization of the secrets entrusted to them by Our Lady, life in the world will change and how it will change, we will not know until the secrets are revealed."
These few words imply a lot about the extraordinary events at Medjugorje. As for its authenticity, that is for each of us in our own harts to decide.
ęCopyright: 1985, Wayne A. Weible
---
The Secrets
All six of the visionaries say that the secrets, in substance, affect the whole world. There are private secrets for some of them, concerning their future, and other secrets relating to the whole world. Only one of the secrets has been revealed by the visionaries. Our Lady has promised to leave a visible sign on the moutain where She first appeared. These are Our Lady's words about the sign: "This sign will be given for the atheists. You faithful already have signs and you have to become the sign for the atheists. You faithful must not wait for the sign before you convert: convert soon. This time is a time of grace for you. You can never thank God enough for his grace. The time is for deepening your faith and for your conversion. When the sign comes, it will be too late for many."
---
Part 2: Conversations With Mary, The Mother of Jesus
Published Dec. 11, 1985
This is the second in this very special four-part series of columns I am doing for the Christmas season. The interest in the first part has been excellent and positive. Because of the nature of the subject, a supernatural religious event, I am going to restate several things from last week's column.
First, I personally feel something terribly important and meaningful to everyone, regardless of religious affiliation, is happening in Medjugorje. Because of the length of time it has been occurring, daily for almost five years now, and because of the age of the youths involved, I tend to view it as an authentic miracle of our time. That is my personal belief. It is up to the individual to determine based on the information available.
Here are selected bits of conversations reported by the seers, of conversations with the Blessed Virgin Mary:
On the fourth evening of the apparitions, which began June 24, 1981, Ivanka asked the lady her name. "I am the Blessed Virgin Mary," was the reply. Later, Vicka said, "If you are Our Lady, stay with us. If you are not, be gone!" The lady smiled and remained.
Vicka asked: "Why have you come?" The reply:"I came because there are many good believers here. I want to be with you, to convert and reconcile everyone." Later on the same occasion, another seer Marija saw the lady on her way down from the hill where the apparitions first began. She stopped suddenly, ran to her left and dropped to her knees. There she says, "Our Lady was standing before a cross, with tears in her eyes. She repeated several times: "Peace, peace, peace, be reconciled with one other."
Many times during the apparitions, She has said, "Believe, as if you, too, see."
On June 29th, the children asked specifically for the healing of a two-and-a-half-year-old boy, who was mute and unable to walk. The seers asked the Virgin Mary to heal him. Jakov reported her response: "Let his parents believe that he will be healed." Later in the evening as the family of the boy was on their way home, they stopped at a restaurant. The mute little boy banged on the table and said, "I want a drink." Since then, he is now able to talk and walk. She has directed others to pray and fast and ask Jesus to be healed of their specific ailments or handicaps. Many have been healed according to the reports of the people there.
Again, concerning healing Mary has told the seers: "I cannot heal; only God can. I need your prayers and sacrifices to help me."
Continuing: (speaking urgently for the need of conversion) "The only word I wish to say is 'conversion!' To the whole world. I am saying this to you to tell everybody. I ask only for conversion. Be ready for everything and be converted. Give up everything that goes against conversion."
On prayer and faith: "Let them (Those in Medjugorje and the visitors; also those who hear about Medjugorje) believe as if they see; believe firmly. There are many believers who do not pray; faith cannot be alive without prayer."
When the children asked at the request of a priest if people shoud pray to Jesus or to Mary, her answer was: "Please pray to Jesus. I am His Mother and I intercede for you with Him. But all prayer goes to Jesus. I will help. I will pray, but everything does not depend only on me. It depends also on your strength, the strength of those who pray."
On why She has chosen to appear in Medjugorje: "I have chosen this parish in a special way. I want to protect you and guide you in love. And therefore, I ask for a total conversion of the parish so that the pilgrims can find a fountain of conversion here." At the time of this message, she also recommended a special passage from the Gospel of Matthew, chapter 6, versus 24 to 34.
During a special holy week in 1984, The Virgin Mary said to the parish through the young seer Jelena: "Raise your hands and open your hearts. Now, in the moment of the resurrection, Jesus wants to give you a particular gift. It is this: You will undergo trials with great ease. We will be nearby and will show you the way out if you will accept us. Don't say that the Holy Year is now over and there is no more need to pray. On the contrary, reinforce your prayers, because the Holy Year is just one step forward." After this Jelena reported that she saw the risen Jesus. Brilliant light radiated from His wounds onto the people. Jesus said: "Receive my graces and tell the whole world there will be happiness only through Me."
A final note on this part of the articles. Today, the entire parish of Medjugorje, with, of course, a very few exceptions, attends church services daily. These services usually last for more than three hours. The greatest miracle of Medjugorje that is proven fact, is the total conversion of the community that was already faithful by today's standards.
---
COLUMNS ARE ANOTHER "MIRACLE"
It was never intended that the columns published here would be distributed outside of the Myrtle Beach area. They were published as a collected work to make it easier to ship them, due to the overwhelming number of requests from people all over the country and many foreign countries.
Twenty-five hundred were originally printed and it was thought that they would last well over a year. That was in September, 1986. As of December 1987, the total printed and shipped is over eight million copies. It now takes three printing plants located in different parts of the country to keep up with the demand.
The "miracle" here is that none of this was planned; it just happened, like so many other events connected with the apparitions at Medjugorje. These columns are now the most widely circulated information on the apparitions of Medjugorje.
Those who send for them and distribute them to their churches, their prayer groups, their families, are doing the will of Our Lady of Medjugorje. May Jesus and His Blessed Mother Mary continue to bless you for your help. - w.w.
---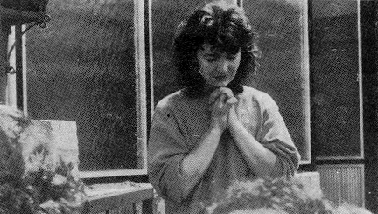 VICKA PRAYS WITH VISITING PILGRIMS - In January, 1986, Vicka was asked by the Blessed Virgin Mary if she would be willing to make three big sacrifices so that God's plan could be fulfilled. She told her not to answer right away but to pray about it for two days. After the two day period, Vicka readily accepted the sacrifice, which has not been revealed to the public. Three times, from January through September, for periods of 40 days, the Blessed Virgin did not appear to Vicka on a daily basis. Each time, after the last day of the period, She would appear to her again. During these 40-day periods Vicka did not suffer from the mysterious "spiritual" illness that had caused her to be confined to bed for long periods of time. As of January, 1987, she seems to be doing well with small bouts of illness.


Part 3: Interviews with the Seers
Published Dec. 18, 1985
It hardly seems possible that three weeks have passed since I began running this very special series of columns concerning reports of the Blessed Virgin Mary, the Mother of God, appearing to a group of young people in Yugoslavia.
While it is by far one of the most difficult subjects I have attempted to write about, it is also the most satisfying from the standpoint of having done something worthwhile. Professionally, I want readers to see it as objective and informational; personally, I want it to inspire everyone who reads it to strengthen their relationship with God and fellow man. That is the purpose of running it during the celebration of Christmas.
This week, interviews with two of the young people are featured. The answers given were taken direct from a tape recording of the conversations with them. Parts of the interviews were excluded at my discretion so that I could run as much of them as possible.
(Excerpts taken from: "The Apparitions of Our Lady at Medjugorje", by Svetozar Kraljevic, O.F.M.)
Interview With Mirjana Dragicevic
By Fr. Tomislav Vlasic
Medjugorje
January 10,1983
T: Mirjana, we have not seen each other for some time, and I would like you to tell me about the apparitions of the Blessed Virgin Mary, and especially the events that are connected with you.
M: I have seen the Blessed Virgin Mary for eighteen months now, and feel I know her very well. I feel she loves me with her motherly love, and so I have been able to ask her about anything I would like to know. I've asked her to explain some things about Heaven, Purgatory, and Hell that were not clear to me. For example, I asked her how God can be so unmerciful as to throw people into Hell, to suffer forever. I thought: If a person commits a crime and goes to jail, he stays there for a while and then is forgiven - but to Hell, forever? She told me that souls who go to Hell have ceased thinking favorably of God - have cursed Him, more and more. So they've already become a part of Hell, and choose not to be delivered from it. Then she told me that there are levels in Purgatory: levels close to Hell and higher and higher toward Heaven. Most people, she said, think many souls are released from Purgatory into Heaven on All Saints' Day, but most souls are taken into Heaven on Christmas Day.
T: Did you ask why God allows Hell?
M: No, I did not. But afterward I had a discussion with my aunt, who told me how merciful God is. So I said I would ask the Madonna how God could ....
T:According to what you've said, then; It's as simple as this: people who oppose God on earth just continue their existence after death, and oppose God in Hell?
M: Really, I thought if a person goes to Hell... Don't people pray for their salvation? Could God be so unmerciful as not to hear their prayers? Then the Madonna explained it to me. People in Hell do not pray at all; instead, they blame God for everything. In effect, they become one with that Hell and they get used to it. They rage against God, and they suffer, but they always refuse to pray to God.
T: To ask Him for salvation?
M: In Hell, they hate Him even more.
T: As for Purgatory, you say that souls who pray frequently are sometimes allowed to communicate, at least by messages, with people on earth, and that they receive the benefits of prayers said on earth?
M: Yes. Prayers that are said on earth for souls who have not prayed for their salvation are applied to souls in Purgatory who pray for their salvation.
T: Did the Madonna tell you whether many people go to Hell today?
M: I asked her about that recently, and she said that, today, most people go to Purgatory, the next greatest number go to Hell, and only a few go directly to Heaven.
T: Only a few go to Heaven?
M: Yes. Only a few - the least number - go to Heaven.
T: Did you ask about the conditions for a person to enter Heaven?
M: No, I didn't; but, we can probably say what they are. God is not looking for great believers but simply for those who respect their faith and live peacefully, without malice, meanness, falsehood.
T: This is your interpretation, your understanding?
M: Yes. After I talked to the Madonna, I came to that conclusion: No one has to perform miracles or do great penance; merely live a simple, peaceful life.
T: Well, besides Heaven, Hell and Purgatory, is there any else new recently?
M: The Madonna told me that I should tell the people that many in our time judge their faith by their priests. If a priest is not holy, they conclude that there is no God. She said, "You do not go to church to judge the priest, to examine his personal life. You go to church to pray and to hear the Word of God from the priest." This must be explained to the people, because many turn away from the faith because of priests. Today, as it was a long time ago, the Virgin told me, God and the devil conversed, and the devil said that people believe in God only when life is good for them. When things turn bad, they cease to believe in God. Then people blame God or act as if He does not exist. God, therefore, allowed the devil one century in which to exercise an extended power over the world, and the devil chose the twentieth century. Today, as we can see all around us, everyone is dissatisfied; they cannot abide each other. Examples are the number of divorces and abortions. All this, the Madonna said, is the work of the devil.
T: This behavior of people - they're under the influence of the devil. But the devil does not have to be in them?
M: No, no. The devil is not in them, but they're under the influence of the devil, although he enters into some of them. To prevent this, at least to some extent, the Madonna said we need communal prayer, family prayer. She stressed the need for family prayer most of all. Also, every family should have at least one sacred object in the house, and houses should be blessed regularly. She also emphasized the failings of religious people, especially in small villages - for example, here in Medjugorje, where there is separation from Serbians (i.e., Serbian Orthodox) and Moslems. This separation is not good. The Madonna always stresses that there is but one God, and that people have enforced unnatural separation. One cannot truly believe, be a true Christian, if he does not respect other religions as well. You do not really believe in God if you make fun of other religions.
T: What, then, is the role of Jesus Christ, if the Moslem religion is a good religion?
M: We did not discuss that. She merely explained, and deplored, the lack of religious unity, "especially in the villages." She said that everybody's religion should be respected, and, of course, one's own.
T: Tell me where the devil is especially active today. Did she tell you anything about this? Through whom or what does he manifest himself the most?
M: Most of all through people of weak character, who are divided within themselves. Such people are everywhere, and they are the easiest for the devil to enter. But he also enters the lives of strong believers - sisters, for example. He would rather "convert" real believers than nonbelievers. How can I explain this? You saw what happened to me. He tries to bring as many believers as possible to himself.
T: Can we suppose, then, that one of you might say that three secrets would be revealed before the great sign appears; then the rest of the secrets will be revealed, one by one? Is there anything to that?
M: Nothing like that, but something like this. First, some secrets will be revealed - just a few. Then the people will be convinced that the Madonna was here. Then they will understand the sign. When Jakov said that the mayor will be the first one to run to the hill, he meant that generally people of the highest social class. They will understand the sign as a place of occasion to convert. They will run to the hill and pray, and they will be forgiven. When I asked the Madonna about unbelievers, she said "They should be prayed for, and they should pray." But when I asked again recently, she said, "Let them convert while there is time." She did not say they should be prayed for.
T: You can say nothing specifically until the moment the Madonna says you can?
M: Yes.
T: What does the Madonna say? Can we prepare ourselves for what will happen?
M: Yes prepare! The Madonna said people should prepare themselves spiritually, be ready, and not panic; be reconciled in their souls. They should be ready for the worst, to die tomorrow. They should accept God now so that they will not be afraid. They should accept God, and everything else. No one accepts death easily, but they can be at peace in their souls if they are believers. If they are committed to God, He will accept them.
T: This means total conversion and surrender to God?
M: Yes.
T: After these ten secrets, after these eighteen months of apparitions, what do you tell the people that they should do? What do you say to priests, to the Pope and bishops, without revealing the secrets? What does the Madonna want us to do?
M: First, I would like to tell you how it was for me at the end, and the....
T: All right.
M: Two days before Christmas, the Madonna told me Christmas Day would be the last time she would appear to me. (I didn't quite believe this.) On Christmas Day, she stayed with me for forty-five minutes and we talked about many things. We summarized everything that had been said between us. On behalf of many people, I asked what they should do. Then she gave me a very precious gift: she said she would appear to me on my birthday every year for the rest of my life. Also, independently of the sign - and anything else - she said she will appear to me when something very difficult happens - not some everyday difficulty, but something quite grievous. Then, she will come to help me. But now, I have to live without her physical presence, without her daily, personal visits. I say to all people: Convert! - the same as she said. "Convert while there is time!" Do not abandon God and your faith. Abandon everything else, but not that!
T: What is the greatest danger to mankind? What does it come from?
M: From godlessness. Nobody believes - hardly anybody. For example, the Madonna told me that the faith in Germany, Switzerland, and Austria is very weak. The people in those countries model themselves on their priests, and if the priests are not good examples, the people fall away and believe there is no God. When I was in Askona I heard of a priest to whom a rich man had left money to build a home for old people, but instead, the priest built a hotel. Now all the people in that city have turned their backs on the faith, because how could a priest not fulfill the last wish of a dying man and, instead, build a hotel and make money for himself? Nevertheless, people must understand that they shouldn't scrutinize a priest's private life, but listen to what he says through God - God's word.
ST. JAMES CHURCH - This is the church in Medjugorje where the Madonna appeared to the young seers for more than two years. Later, the apparitions moved to the Rectory, at the request of the Bishop of Mostar, who does not believe the apparitions to be authentic. However, the crowds of parishoners and visiting pilgrims who jam every service from early morning until late at night seems to confirm the appearances of the Blessed Virgin.



T: Before we finish this interview, is there anything you would like to add?
M: She said some things that are for me personally. She advised me on various matters. Then she said: "Go in God's peace!"

T: Did she talk to you about the other visionaries and further apparitions?
M: She told me I am - well, more mature than the others and therefore I must help them, spend time with them and talk with them. This will make things easier for them and for me. We are to understand each other and stay together - united.

T: She did not mention further developments or apparitions, either individually or to all of you as a group?
M: I think that when each individual learns the tenth secret, she will cease appearing to that person.

Interview With Ivanka Ivankovic
By Fr. Svetozar Kraljevic
February, 1983

S: Ivanka, you and Mirjana were taking a walk together that day. Why were you walking together?
I: We regularly walked together in that area. We had been at my house; then we decided to take our walk.

S: Who was with you, besides Mirjana?
I: At first, just Mirjana and myself. When we returned to my house, Milka, Marija's sister, asked us to go with her to get the sheep and bring them home.

S: So the two of you went with Milka to get the sheep?
I: The first time, Mirjana and I were walking alone, and as we were returning to the village I happened to look toward the hill - and I saw the figure of the Madonna, bright and shining. I said to Mirjana: "Look, the Madonna!" Mirjana dismissed what I said with a wave of her hand as if I'd been joking, and she said: "It's not very likely that the Madonna would appear to us." So we continued to walk toward the village. Mirjana did not even look where I pointed to the hill. When we got to Milka's house, Milka said: "Help me get the sheep and bring them home." So we turned around and started walking back to the fields. This time, all three of us saw the Madonna. We knelt down and prayed; then we got the sheep and chased them home. Later, Vicka and Ivan and the other Ivan joined us.

S: On that first day, you saw the Madonna twice?
I: Yes. The first time when Mirjana and I were walking back to the village, and the second time when we went with Milka to get the sheep.

S: Who saw the Madonna first?
I: I did.

S: What did you say when you saw her?
I: I said: "Look, Mirjana, the Madonna!"

S: Then what did you do? Where did you go?
I: We went to Milka's. We stopped in front of her house and she asked us to help her get the sheep. Then the three of us went to get the sheep to bring them home. When we passed the hill, I saw the Madonna again, this time holding the baby Jesus in her hands. Mirjana and Milka also looked, and they too saw the Madonna.

S: What did seeing the Madonna mean to you?
I: It meant everything in the world!

S: When you talk with the Madonna in your visions, we cannot hear you speak.
I: We speak out loud, the same as now.

S: Let me put it this way. Do you speak with the Madonna mentally - that is she understands what you think - or do you speak to her in a low voice, a whisper, so we cannot hear you? Or is your conversation miraculous - beyond our power to hear and understand?
I: I speak with her normally, the same as I'm speaking now. Also, I hear her voice and words in the normal way, as well as what the others say.

S: In your visions, have you ever asked favors for anybody?
I: I have, in the beginning, I asked a favor for little Daniel.

S: What did the Madonna say?
I: She said the same thing she always says: Strong faith and prayer will help.

S: What do you mean, "strong faith and prayer"? For what?
I: To believe and pray for a healing.

S: Did you ever ask for anybody in your family who has passed away?
I: Yes. I asked for my father not long ago, and she said the same thing.

S: What did Our Lady say?
I: She said my mother is with her, and that I should obey and not worry.

S: You were saddened by your mother's death, and because of that the Madonna came to comfort you.
I: I don't know; but I don't think so. We asked her why, of all people, she appeared to us. She said she does not always seek out the best people.

S: To whom are the Madonna's messages sent?
I: To the whole world.

S: What are the messages?
I: Peace, conversion, fasting, penance, prayer.

S: Which is the most important?
I: Peace.

S: Why peace?
I: When everyone in the world is at peace, everything is possible.

S: You mentioned prayer. Tell me honestly, how do you pray?
I: When I get up in the morning I pray seven Our Fathers and the Credo. At noon, I pray the Angelus. In the evening, I pray seven Our Fathers and the Credo, and sometimes the rosary. When we are all home together, we pray an evening prayer.

S: It is known that the Madonna recommended that all of you enter a convent.
I: She told us it is her wish that we enter a convent - but only those who have such a wish. She does not want anyone to disgrace the faith and the Church.

S: I believe that everyone is free to choose, and you are free as well. Have you decided what you will do in this connection?
I: To tell you the truth, as I feel right now, I do not want to enter the convent. I can live a Christian life, the same as a nun, raising...

S: Bearing in mind what you know about the future, tell me if the Madonna of Medjugorje will reconcile the world even more.
I: I think she will.

S: Will the "great sign" help in achieving this?
I: Yes, when the time comes. More believers will come to church.

S: Will the sign appear very soon, or later?
I: It will appear at the proper time.

S: Ivanka, are you in any way fearful of being able to do what the Madonna expects of you in this life?
I: Why should I be afraid when God is with me? God gives me whatever strength I need.

S: You speak to the people of the Madonna's messages, but some do not believe you. In that case, what do you do?
I: I pray for them, that God will enlighten them.

S: Can you do anything else?
I: I will go on trying to persuade them. They will be convinced, once they....

S: I believe that, but in the meantime people become nervous. It is difficult to wait for that day. What should people do?
I: Pray that God will give us the strength to endure.

S: There are those who are opposed to the Madonna. What would you tell them?
I: I'd tell them: Convert! There is a God. That is it!

S: Can those who oppose the Madonna frustrate her plans in the world?
I: You mean the great sign?

S: Yes.
I: No. All their armaments and explosives could not destroy it.

S: Can they do harm to the souls of the people and to the Madonna's plans for the people?
I: No.

S: Does that mean the Madonna is stronger than they?
I: Normally she is. It is Jesus who decides - God. Not the Madonna.

S: Tell me about this.
I: I think that God has sent her here. When we asked her for a sign, I think she asked Jesus and He gave her a sign. Then she promised to give us a sign.

S: That means she cannot act independently on her own. She must do the will of God, as she always has.
I: I believe so.

S: It is important that people of good faith, regardless of denomination, not be turned against each other. But tell me more about this. What did the Madonna say about this?
I: The Madonna said that religions are separated in the earth, but the people of all religions are accepted by her Son.

S: Does that mean that all people go to Heaven?
I: It depends on what they deserve.

S: Yes, but many have never heard about Jesus.
I:Jesus knows all about that; I don't. The Madonna said, basically, religions are similar; but many people have separated themselves, because of religion, and become enemies of each other.

S: I thank you, Ivanka, for this conversation and testimony!

ęCopyright: 1985, Wayne A. Weible
---
MONTHLY NEWSLETTER!
Welcome Follower's of Medjugorje!
Your many witnesses of the effect that my articles have had convincing you to go to Medjugorje, or to take another step forward in your faith, have now convinced me to attempt to publish a monthly newsletter that will satisfy all aspects of informing the public of the Miracle of Medjugorje.
Weible Columns, Inc. was established in October, 1986, in order to publish and make available the series of articles I wrote about Medjugorje. As of January, 1989, more than 25 million copies have been printed and distributed throughout the world. We applied for non-profit status with the federal government soon after forming the corporation, and I am happy to report that as of January, we are officially non-profit. Our purpose with the newsletter and all materials made available through it, is to spread the message Mary is giving at Medjugorje.
Realistically, no information vehicle such as this can exist without financial support. Therefore, we will charge a fee of $ 12.00 a year for a 12 month subscription. I offer you this opportunity to stay informed about the apparitions by subscribing now.
All Canadian orders the price is $24.00, all other Foreign orders are $30.00. this is due to the cost of mailing these newsletters monthly. ALL FOREIGN ORDERS PLEASE SEND U.S. CURRENCY ONLY. THANK YOU
                WEIBLE COLUMNS NEWSLETTER
                       P.O BOX 2647
                 MYRTLE BEACH, S.C. 29578

---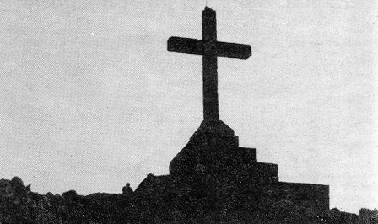 SUPERNATURAL PHENOMENA - Many extraordinary phenomena, many involving this huge cement cross high on a mountain behind the church, have been and continue to be seen in Medjugorje. For example, in August, 1981, the Croatian word "Mir" which means "peace" was written in the sky at night above the large cross on the hill of Medjugorje. Many people from surrounding villages, including the parish priest saw it. The sun has frequently been observed to do miraculous things at Medjugorje - like pulsate, spin, change into a white disc, shone a rainbow of colors. At times, too, the cross on the top of the mountain behind the church has been seen to spin or disappear. Occasionally, the silhouette of Our Lady has been observed at the foot of the cross at night. The Blessed Virgin has said that these signs are intended to validate the authenticity of the apparitions and highlight the urgency of the message.


Part 4: Interviews with Local Residents Who Have Been to Medjugorje
Published Jan. 15, 1986
I sincerely apologize to all of you for not having this article in last week's edition, but unfortunately the flu bug won out and I was totally out of it for almost a full week. This is the final part of a four-part series begun back in the first week of December. It is in the form of statements from two people who live in this area who have actually been to Medjugorje to witness first-hand the events happening there.
Rather than doing a question-answer type of interview, I have chosen to do them in statement form for the sake of brevity and easier reading.
The interviewees are Jim Stoffel, who resides in North Myrtle Beach, and Reverend Sylvester Scotti, pastor of St. Philip's Catholic Church in Lake City.
Jim Stoffel is a golf pro at Carolina Shores Golf Club in North Myrtle Beach. He and his wife, Rosie, have been living here since 1972. They were joined by Hal and Peggy Todd, also of North Myrtle Beach, in a trip to Medjugorje in November, 1985. I use the comments of Jim that were given at a meeting at his church . . . after they had returned. Again, because of the limited amount of space I can devote to this, I use only his comments, even though the others had much to say about the trip. Perhaps at a later time, we can do more on this.
Father Scotti has been the priest at St. Philip's Catholic Church for the past two and a half years. He has been in the priesthood for 14 years. I went to Lake City and sat with him one morning talking about his experiences in Medjugorje.
We'll begin with the comments of Jim Stoffel:
"We had heard about the events at Medjugorje two years ago through a friend who had heard someone speaking about it at Greenville, S.C. Naturally, we got interested and started looking into it. We got some books. There were about six out at the time.
"I had read about apparitions at Lourdes and Fatima, but the big thing here was that this was happening now - here today - in our time. We got hold of information about going there and went in November, 1985.
"My personal feeling is that everything that is happening in Medjugorje is authentic. There is really and truly something supernatural going on there.
"The purpose of the visits by the Virgin Mary is to relate to the seers 10 messages for the world. She has also told the children that it is important to pray, fast and reconcile oneself with God. After the apparitions cease, the 10 messages, or things, will begin to happen. Numbers seven, nine and ten are grave chastisements for the world because of the sins. I might add that the seventh message has been done away with because of the response of the people to the Blessed Virgin's urgent request for prayer and fasting and reconciliation. She says that the ninth and tenth things will happen, but they can be lessened with more prayer and fasting. I guess that is what the whole thing is about.
"I really don't think it's meant to scare, because her message is nothing more than what is in the Gospels that we all have every day and every week. The Lord is using the Holy Mother as a means of making the whole thing more emphatic.
"It truly is a unique experience over there. It's just a little village (Medjugorje) that really is now a very holy place. It's almost indescribable, frankly. The message we would like to get across is that this is really the work of the Holy Spirit to bring the Gospel of Jesus Christ to the world through the Virgin Mary. People have gotten so far away from God, and this is a very urgent call to turn back to Him. I guess to sum up what she is trying to say is that people need to have peace within themselves, and that this can come through prayer, conversion, and of course communion. I'm not trying to transform anyone to Catholicism, nor is that the purpose of the message of Medjugorje. It is a personal commitment for everyone in the world.
"This parish or community in Medjugorje only has 400 families, yet the church of St. James (where the Virgin Mary is reportedly appearing - Ed. Note) holds roughly 2,000 or more. Nobody knows why it was built so large. She is trying to mold the perfect parish here and she has succeeded. Six miles away from here and you're right back in the "real world".
"As I said, the Blessed Virgin is very happy with the people of the church here. She usually appears at about 5:45 p.m. (the time difference is seven hours ahead of our time - Ed. Note) in the evening and the apparitions last about three-four minutes now. They used to last 20-30 minutes. After the apparitions, Mass is held and then the kids stay in the church for a while longer, staying about three hours daily. They also spend up to four hours a day in prayer and fast three times a week. If you've never tried fasting, you should. It's very difficult for just one day. The people are just so nice and gracious, very friendly and warm. They're really just very simple people.
"The Virgin Mary has messages for the western world too. We seem to think we're better than the rest of the world. She talks about too much drugs and far too much television, which takes up so much of our time. We waste an awful lot of time that could be spent on better things. Also, we have too many religions in the United States; too many cults and worship of false gods, this sort of thing. Another thing: we have advanced far ahead of the rest of the world in technology and we seem to think we have done it on our own - that is, without the help of God. It's man's technology, so to speak. If you really want a perfect description of the way people of the western world are living today, you need only to pick up your Bible and read the first chapter of Romans, verses 18 through 32. It's amazing that something written so many centuries ago can so perfectly fit our lifestyle today.
Father Sylvester Scotti:
"In October of 1984, I went to Rome for a meeting of priests from all over the world.Just prior to leaving, we were asked if we wanted to make a pilgrimage or side trip to Medjugorje, Yugoslavia, a place where reportedly, the Blessed Virgin Mary was appearing to six young people on a daily basis.
"I had heard vague reports about Medjugorje, originally through a local newspaper where a story appeared about a priest from that parish being arrested for stirring up trouble. Yugoslavia is, of course, a Communist country, and while they allow church services, they do so only as long as it does not interfere with the daily goings-on there. The article stated that the priest had been arrested for taking part in lies about supernatural things occurring there.
"Later, from other priests and my own research, I learned more of the events taking place there, so, of course, I was excited about an opportunity to go there myself with this group of priests.
"There were 110 of us (priests) that went there after the trip to Rome. This was the largest group of priests ever to visit the site of the reported apparitions. In order to get there, we had to go through a town called Mostar, some short distance from Medjugorje, and 'pretended' we were tourists. It went so far as all of us buying bathing suits to convince the authorities that we were there to enjoy the recreational interests of the area. Finally, we ended up going to a small town between Mostar and Medjugorje. It was very bad accommodations from what one is accustomed to. That is, not really bad, but very primitive from where we stay in our country. Such things as outside plumbing and such.
"Our group finally went to Medjugorje and as I stated, it was the largest group of priests ever assembled there at one time. We were taken to the basement of the church rectory, because there were so many of us. We were going to meet with the children (seers) after the apparition. It was hot and stuffy and very crowded. Soon one of the nuns there at the church who works closely with the children came into the room and announced that the Blessed Virgin had told the children that she would appear to them in the basement where we were because she had a very special message for us.
"What can I say? We were absolutely enthralled that she would appear to the children there. Shortly, the children came into the room and stood just on the other side of the table where I was standing with a fellow priest who was a good friend. They began their prayers and shortly thereafter fell to their knees, which was an indication that the Holy Mother had appeared. We looked at the line of where the children's eyes were looking, and it was directly over our heads!
"After the apparition, the children wrote something down on paper and the nun who could speak English translated it to us. The Blessed Virgin's message was directly to us: 'Thank you for coming when I called you. Those of you who love me have been specially called.'
"Well, you can imagine how we felt. We all prayed and then went upstairs into the church for Mass. I could hardly believe what happened next. Several of the seers, the children, began vesting (dressing) us for the Mass, me and my friend! What a blessing! Then during the Mass, they were right there next to us and we were holding hands with them and praying. I cannot describe to you what this meant to me.
"I have to tell you of two 'miracles' that happened while we were there. On the way to Medjugorje on the bus, we were all talking and praying about what was taking place there. The sky was totally clear and cloudless. Later, someone noticed up in the sky two small clouds shaped in the form of a cross. I tell you the sky was completely clear except for this cross of clouds. Later, it turned into a perfect shape of a dove.
"After the trip to Medjugorje and when we were back in Dubrovnik, we stopped at this beautiful church there for Mass and prayer. All of us were sick. I mean bad sick with the flu and colds and the kind of scratchy throat you get when you catch it. We were praying in this beautiful church and when the prayers were over and we were preparing to leave, a young Canadian stood up and said: 'Brothers, I have to tell you this. I was praying here with you and certainly not praying for something as unimportant as a little flu or cold. But suddenly, I felt this warmth come over me and all of a sudden my sore throat, all my symptoms of the flu are gone! I'm completely well.' We continued to pray for awhile after that.
"You asked me about reaction after I returned to Lake City. Well, naturally, I was filled with the wonder of all this and I went to all the media in the area and in Columbia. The result? Absolute blank stares and nothing. But that is all right. I personally feel that the events taking place there are real and I thank God for that."
This is the final part of our series about the events of the reported apparitions of the Blessed Virgin Mary in Medjugorje, Yugoslavia.
ęCopyright: 1985, Wayne A. Weible
---
Personal Thoughts on Medjugorje
Column 5, Published Feb. 5, 1986
I had made a half-hearted promise to myself not to write about the events in Medjugorje for a while. But I find that I can't do that - at least not until I've had a chance to speak on the subject from a personal standpoint.
Medjugorje can be taken several ways. There are the curious people who like anything that is out of the ordinary just for the sake of curiosity; there are the non-believers who scoff at such nonsense that is outside of the accepted see-touch category; and there are the believers. They look for signs and reasons to strengthen their faith. Sometimes they victimize themselves by trying to believe in too much.
Medjugorje can lead one into any of these, and maybe more. After all, you're looking at an event that claims something far out of the ordinary. We are told that the Blessed Virgin Mary, the Mother of Jesus, is appearing to a group of young people in a remote village located in a Communist country. We are told that this has been happening since June 24, 1981 - and is continuing up to and including this very day. And we are told that it is urgent that we reconcile with God, as quickly as possible, because of the world-wide decline of faith.
If I were to be categorized within the ways given above, it would be among the curious, for that is the reason I first became interested in this unique event. I was told about it in a casual conversation and, with interest piqued, I looked into it. My feeling was that it would make a good column for Christmas. As it developed, it somehow evolved into a four-part series that went far beyond my regular column space. It became the most important thing I had done in the way of writing. At least that was the way I felt about it. Why, I did not know at the time.
Now I think I know why.
The real miracle of Medjugorje is the conversion of the people who live there. It is also the conversion of those who hear about it and renew, convert, reconcile, or whatever you want to call it. It is discovery or the rediscovery of faith as it is truly meant to be. A simple reunification with God and what He wants of us.
Every day, requests come in to the office for copies of the four parts. So far, more than 135 have been received. This entails people sending in a stamped, self-addressed envelope, something most people will not do unless it is very, very important. I have received numerous telephone calls and just about everywhere I go, people want to talk about Medjugorje.
Almost everyone who has written, phoned or talked to me about Medjugorje feels that something is happening there that is not to be explained by the usual scientific methods. Most accept it for what it is. Others have told me it has changed their lives. If even one feels this way, the series was worthwhile.
I personally believe that the Virgin Mary is appearing in Medjugorje. I believe in it so strongly that I plan to go there sometime this year. I cannot explain the exhilaration this one event has put into my life. I believe in it so strongly that I plan to continue investigating it, reading about it and talking to people who have been there.
It is also my hope that I can receive permission to reprint in segments one of the books on Medjugorje. It is the most-up-to-date and complete, running through May, 1985.
I've always tried to write exactly what I feel or believe. That, to me, is what a writer is supposed to do. This is a little odd for me, but it is something I felt I had to do.
Have a good week!
---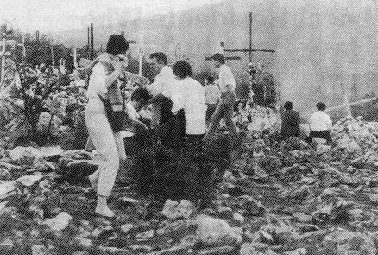 HILL OF THE APPARITIONS - This is the sight of the first apparition of the Blessed Virgin Mary, to the six young people in Medjugorje. The cross seen just right of center marks the exact spot. Thousands of pilgrims climb the steep, rocky hill to pray at this spot. This is the spot where the permanent sign will be left so that the entire world will know the apparitions are authentic.


Update on Medjugorje
Column 6, Published March 5, 1986
When the Blessed Virgin Mary reportedly first appeared to 16-year-old Mirjana Dragicevic on June 24th, 1981, she was walking casually with her girlfriend Ivanka Ivankovic, 17, near a hilltop known as Podprado at a village called Medjugorje in Yugoslavia. Since that time, both girls and four of their young friends have been seeing this vision of the Virgin Mary regularly, often on a daily basis.
The total number of reported apparitions is now close to 2,000. Never in the history of Marian apparitions has such a condition existed. At an early point during these appearances, the heavenly visitor promised to reveal 10 secrets, or messages, to each of the six young people . . . the seers say that only four of the revelations are common to all mankind; the others have to do with the individual visionaries or the Medjugorje community.
. . . The main message given by the Blessed Virgin Mary has been made clear. It has been repeated many times over the course of the apparitions: conversion with God, repentance, increased faith, fasting, prayer, and peace refers to the individual and is a peace that is known only by those who have discovered the true meaning of a personal relationship with God.
Regular readers of The News & Shopper were able to read a four-part series on the events at Medjugorje which ran in December and early January. This article is an update on what is happening with the six youths who have been involved with the apparitions.
At present, only four seers have the regular daily apparitions wherever they may be. They are Vicka, Marija, Ivan and Jakov. Two others, Mirjana and Ivanka, do not see the Blessed Virgin daily any longer. They have already received ten secrets each, Mirjana on Christmas day, 1982, and Ivanka on May 6, 1985. Since then they have stopped seeing her on a regular daily basis. The Virgin Mary promised to Ivanka that she would visit her on the anniversaries of the first apparition, and to Mirjana she promised to appear to her on her birthdays as long as she lives, and also in difficult moments of her life.
In an interview, Mirjana was asked why Mary promised to appear and offer help in her difficult moments, but she is not coming in such a way to help the rest of us in our difficulties. Mirjana said, "I am not speaking of the ordinary problems of my life. My difficult moments stem from the secrets concerning the future of the world, which Our Lady revealed to me. At times, I hardly can cope with it when I seriously think of it. In those moments, Our Lady appears and gives me the strength and courage to go on with my life."
Both Mirjana and Ivanka received from the Blessed Virgin, a piece of material which looks like paper, but it is not paper, like cloth, but it is not cloth. On this parchment, all ten secrets are written, with the dates, even the minutes. Each of these two seers is only able to read her own secrets.
Mirjana's mother tried to read the paper given Mirjana by Mary. Mirjana said to her, "Mother, you will not be able to read this paper. This is just for me and for the priest who will announce the secrets."
The paper, or the cloth, or whatever it may be called, cannot be destroyed even by fire. Each of these two seers is told by Mary to select a priest to whom they will give that material on which the secrets are written ten days before the secrets are to happen. The priest, in turn, with the help of the Madonna, will be able to read the message of each secret and will announce it three days before it happens. He will describe the full nature of the secret, its time and even minute, and the place. The priest will then return the paper to the seer from whom he received it.
The priest will not be able to read all ten secrets at once, but just one by one when the time comes for it to be announced.
Mirjana has revealed the name of the priest she selected. According to Mirjana, Our Lady was pleased with her choice of the priest, who, she said, is a good priest.
Mirjana told of an incident connected with her selection of the priest. "When I chose the priest who would announce the secrets," Mirjana said, "I revealed his name to Father Tomislav Vlasic, O.F.M., (who at that time was the spiritual director of the seers). When he heard the name of my choice, Father Vlasic said: 'He is far away from Medjugorje, and you should choose someone who is close to the place.' My answer to him was that Our Lady would take care of it." A short time after that, to be exact, in August, 1984, Bishop Zanic had Father Vlasic removed from Medjugorje and had him replaced with the priest whom Mirjana selected to announce the secrets.
The irony here is that Bishop Zanic is not a believer in the apparitions, and has done everything he possibly can to prevent them from continuing.
The fact that Mirjana has already selected the priest who would announce the secrets indicates that the time for the first one to happen is approaching. Other secrets, with short intervals, will then follow.
. . . Vicka, the oldest of the seers, has received only eight secrets. She completed writing the notes of the Blessed Virgin's life on this earth, as dictated to her by her. For the last two years she has been suffering from severe pains in the head caused by a water bubble situated between the small and the large brain. Doctors in Zagreb, Croatia, avoid surgery because of the delicate position. She suffers much, especially in the afternoons. Often she goes into a coma; however, she always comes out of it before the time of the daily apparition, which occurs in her small and simple room.
Vicka's friends, and the friends of Medjugorje who are trying to help her, offered all financial assistance for her travel, medical, and hospital expenses if she would be willing to come to the United States or London or Switzerland for surgery. When people try to convince her, her simple answer was, "NO!" Asking her why, she said, "Our Lady told me that God sent me this illness for a special purpose, and I accepted it!" Has Our Lady ever told you, "that one day She would cure you", she was asked? "No, and I did not ask Her to do so!"
This girl in the prime of her life, coming from a financially poor family, is being offered such royal treatment for her physical health, but she refuses all because of the supernatural motives. Who can possibly accuse her of fraud, of lies, of deception?
Vicka's life is full of God's spirit, which radiates on her face even when she suffers excruciating pains.
Marija, who already received nine secrets, and is receiving from Our Lady messages for the parishioners of Medjugorje every Thursday, gives the impression of a saintly girl.
Ivan, who did not succeed in two seminaries, for various reasons, still hopes to become a priest one day. Jakov, the youngest of all, is growing and maturing fast, but he is still full of restlessness. During interviews, he tries to speed up questions so he can go play. When posed a serious question, though, he immediately turns into a thinking young man and gives some very sober answers.
All six seers are well aware of the fact that they are misunderstood, criticized, and even condemned by those who should "respect and protect them", as the renowned theologian Hans Urs von Balthasar said, defending them in his letter to Bishop Zanic on December 12, 1984.
They are also convinced of the fact that the Blessed Virgin Mary appears to them and uses them as the instruments of the heavenly messages to mankind.
---
Visit To Medjugorje
A phenomenon Beyond Explanation
Column 7, Published May 13, 1986
I ran into an old friend at the airport a couple of weeks ago. I was waiting to leave on a nine-day trip to Medjugorje, Yugoslavia. The usual light chatter ensued and in the course of that, I asked him where he was going. He told me he was heading for a few days in Cancun, Mexico, for a business meeting and some relaxation. Then, the inevitable: "Where are you going?"
"Uh, Yugoslavia," I said hesitantly. "I'm going to Yugoslavia."
The look on his face said it all, but he asked anyway. "Why in the world are you going to Yugoslavia?"
After spending nearly two weeks there, I can understand why someone would question a trip to Yugoslavia. It's communist, mountainous, and hard to get around in, and they don't exactly welcome visitors - especially Americans - with open arms and smiles.
But I didn't go there as a tourist. Anyone who has read this column regularly over the past six months knows why I went to Medjugorje.
For almost five years now, this small village has attracted world-wide attention as the place where the Blessed Virgin Mary, the Mother of Jesus, is reportedly appearing daily to six young people in this remote mountain village. Despite government attempts to make visiting the site difficult, millions have been and continue to come from around the world to see for themselves what is happening.
It has become the number one tourist attraction in Yugoslavia. For this reason, while the government continues harassment of the locals and the visitors, they grudgingly "accommodate" the influx of people because of the economic gain. Guest houses are being hastily built, but they are built by the individual landowners, not large construction companies. Progress is slow. There are scattered vendors of food and souvenirs. But the ratio to the number of people there is minute. There are no bathroom facilities, nothing to make the visiting pilgrim's stay comfortable. Yet, thousands come weekly.
The believability of such an event in today's technical world is difficult. However, to go there and be there for an extended period of time leaves little doubt that something definitely beyond technical or scientific explanation is taking place.
The multitude of religious beliefs and cults in the world today, the generally apathetic attitude of churchgoers, and the divided opinions even within the Catholic Church lends credence to the skepticism of this supernatural phenomenon. Yet my own involvement and the circumstances that brought it about have me convinced that this is an authentic call for peace and a return to the ways of God for the whole people of the world; and I am also convinced that the Mother of Jesus, Mary, is the messenger.
I believed this before I went to Medjugorje. I came home with no doubt at all.
I kept asking, why me? I'm a journalist and journalists demand hard, cold, substantiated facts and evidence. I'm not Catholic and know very little about the Catholic Church's reverence for the Virgin Mary. My own Lutheran beliefs virtually ignore Mary beyond her role as mother of our Lord.
My interest in learning more about the events of Medjugorje was simply curiosity: I thought it might make an interesting Christmas column. That "curiosity" turned into four very long columns during the entire month of December. Since that time, over 250 requests that required a self-addressed, stamped envelope have been received for back-copies of the articles. They continue to come in.
That curiosity now has me wanting to spend the rest of my life spreading the message of Medjugorje to any and everyone who will listen. I intend to do just that.
What I saw and what I felt is not easily put into words. It will be difficult for others to accept it or believe it. Yet, I was there, and I know what I saw and what I felt. I saw the sun dance and move and whirl and pale so that I could look directly at it with the naked eye. That is impossible, but I saw it. It was the same sun you and I see every day.
I also saw a huge, 14-ton cement cross mounted high on a mountain that stands behind the church at Medjugorje totally disappear on a cloudless, bright morning. This same cross was observed by me early in the black of morning to glow and shine as though it was covered with lights. That also is impossible. There is no electricity on that mountain, but I saw it.
There was more, but the point is, there is no explanation for these phenomena. They usually occur at the time the Blessed Virgin is appearing to the children. Some see them. Some do not. Others saw them at times when I did not.
The most important phenomenon at Medjugorje is not the supernatural occurrences, however. It is the almost unanimous commitment to the messages delivered by Mary to the villagers. This village is the closest thing there is to a perfect community of love and adherence to the ways of God.
This community, while simple, rural, backward and lacking in material gain, was in many ways no different than our own communities, prior to the beginning of the apparitions in June, 1981. T hey had their share of trouble with drunkenness, cheating, greed, fighting. They went to church, but not enough to fill the pews every Sunday.
Today, these ways are non-existent. The church is filled daily, not just on Sunday. Devotion to God is the main course of their lives. This is the real miracle, the real message of Medjugorje. That is what is stressed to the visiting pilgrims.
One of the young people who sees Mary daily has said that the highlight of her day is not the apparition of the Mother of Jesus, but rather the attending of church. This is what the Blessed Virgin wants of all of us.
---
    COPIES AVAILABLE
English & Spanish Rates
   U.S. CURRENCY ONLY
10 copies         $5.00
25 copies          9.00
50 copies         13.00
100 copies        18.00
500 copies        23.00
Mail to: Weible Columns
      P.O. Box 2547
 Myrtle Beach, SC 29578

  French Edition Rates
 Canadian Currency Only
10 copies         $5.00 
25 copies         10.00
50 copies         15.00
100 copies        25.00
500 copies        35.00
1000 copies       60.00
        Mail to:
    Michel Chartrand
     Weible Columns
      1561 Raphael
      Beloeil P.Q.
    Canada, J3G 5L8
If unable to give a donation,
we will gladly send copies at
no charge. You will be
notified of additional shipping
costs for your area.

---
INNER LOCUTIONS & THE PRAYER GROUP - Apart from the six visionaries, a new development occurred in December, 1982. A young girl named Jelena Vasilij, left, heard the Virgin Mary's voice - a phenomenon known as inner locution. The same gift was given to Marijana Vasilij, right, (no relation to Jelena) in March, 1983. These two girls have another type of apparition, an "inner" one in which they "see with the heart". She is giving them teachings concerning the spiritual life. In May, 1983, She told Jelena to advise a priest that She wanted a prayer group in the parish. The Virgin said, "I want a prayer group here. I will lead the group and give rules of santification to it. Through these rules all others in the world can consecrate themselves. I will give you one month to choose this group, but tell them the condition I lay down. First of all, they have to renounce everything, putting themselves totally at God's disposition; renounce all fear because if they are abandoned to God there is no place for fear. All difficulties they encounter will be for their spiritual growth and for the glory of God." Some 56 boys and girls came forward to follow this call. The Blessed Virgin asks that they pray three hours a day, fast twice a week on bread and water, and attend mass every day.


Medjugorje Now
October, 1988
Much in Medjugorje has changed during the past seven years. That is now the length of time that the Blessed Virgin has been appearing daily to the young Croatian visionaries from the tiny farming village.
Life there has changed--dramatically. No longer a sleepy farming village, it is bustling with commercialism surrounding the incredible phenomena of the Madonna's consistent visits. Streets once used primarily for herding animals and as playgrounds for the children, are now filled with huge tour buses and throngs of pilgrims of every country. On a given day, there is ususally in excess of 5,000 or more pilgrims.
Yet, the predominant message of individual peace and love and reconciliation to Jesus Christ has not changed. Amid the chaos of so-called progress and growing materialism, the holiness is still there for those who seek it.
The usual comforts of travel found in well-frequented tourist spots are still sparse in this little village. That is improving in a fast pace now that the crowds have grown by the thousands and continue to come at all times of the year. The area is slowly but steadily acclimating to its new role as a religious mecca.
Ironically, a government that was initially hostile and constantly harrassing the locals and visiionaries alike, is now working at a furious pace to add new hotels, cottages, restaurants and other tourist necessities to accomodate the ever-growing throngs.
The reason for the change is obvious: Medjugorje has become an unexpected economic boom that far overshadows their Marxist, atheistic aversion of anything that smacks of religion. It is now the number one tourist attraction of Yugoslavia. To the government, there isn't much difference in the currency of a pilgrim seeking spiritual renourishment, and a tourist seeking comforts.
The message of peace, prayer and reconciliation to God brought by the Mother of Jesus has now reached all corners of the world just as She predicted it would. This has happened despite the strange alliance of an atheistic government and the overzealous opposition to the apparitions by the local Catholic bishop. Pavao Zanic, under whose church authority they were placed.
Literally millions of spiritual conversions have occurred over the last seven years. They are the most visible sign of the "good fruit" of the Medjugorje apparitions.
Today, more Americans go to Medjugorje than any other nationality. They are followed closely by the Irish. There are also many pilgrims now from other Iron Curtain countries, eagerly sharing in the conversion found there.
The original commission set up by the Catholic Church under Bishop Zanic to study the apparitions and determine their church authenticity was replaced earlier last year by the entire Bishop's Conference of Yugoslavia (BCY). This was an unprecedented move in the history of Marian apparitions. The reason according to most sources was that Bishop Zanic used his commission more as a tool to discredit the Franciscan priests at Medjugorje, whom he accused of masterminding the entire event, thus viewing the apparitions as a hoax.
Bishop Zanic has opposed the apparitions after initially supporting them in the first few months. His opposition stems from a local feud between his office and the Franciscans over parishes he changed from Franciscan to secular priest authority. Somehow this matter was presented to the Madonna after the apparitions began and surprisingly, She answered. She said, "tell the Bishop that he acted in haste and should reconsider. The two priests (whom the Bishop tried to have defrocked for remaining in the parishes in question) are innocent." When Bishop Zanic was told of this message, his angry reply was, "The Mother of God would never speak to a bishop that way!"
After a flurry of negative directives issued by Bishop Zanic's office, Archbishop Frane Franic of Split, who is head of the Commission of Faith and Doctrine for the BCY, issued a set of directives in September, 1987. In short, it states that all those wishing to go to Medjugorje, may do so as individuals. This includes priests and nuns. In fact, the priests are encouraged to come so that they may help to attend the needs of the pilgrims.
Four of the young visionaries continue to see the Madonna each evening. They are Vicka, Marija, Ivan aand Jacov. Mirjana and Ivanka have received all ten secrets and no longer have daily apparitions. However, Mary visits them at least once a year.
Mirjana is finishing her fifth year at the University of Sarajevo. She returns to Medjugorje approximately once a month. Ivanka was married in December 1986, and in November 1987 she has a baby girl that she named Christina. Ivan finished a year in the military service in June 1987 and is now helping his family in the field. Jacov is still attending school.
Marija and Vicka, the two most popular and spiritual of the visionaries see thousands of pilgrims each week, anwering questions and praying with them. Both plan to join a convent when the apparitions are over.
In November, 1988, Marija came to the United States on a mission that completely exemplifies the message Mary is giving us at Medjugorje. She came to donate her kidney to her brother, Andrija, age 32, who was dying of kidney failure. The operation took place at Birmingham, on December 15, and it was successful for both Marija and her brother.
It remains for me the single most example of what is being asked of us--to give in love to others as Jesus gave to us. It was also a special blessing to the United States in that for nearly three months, the Blessed Virgin Mary appeared to Marija in Birmingham, Alabama.
The major change in these young seers is spiritual maturity.
Media coverage of the apparitions is just now beginning to reach the masses througout the world. However, much of what they write or show is negative, centering on the sensational, the commercial and the controversy surrounding the apparitions. They typically ignore the main message of love and peace to concentrate on the external.
It is my opinion that Medjugorje's message has been and will continue to be transmitted on a grass roots level. The phenomenal spreading of these articles througout the world is strong evidence of that fact. Each person going there, or hearing about it and believing, becomes an apostle of the message. To the curious, and the non-believer, it is nothing more than a drab little rural community consumed with religious mass hysteria; to the believer, the spiritual hungry, the faithful of the churches, it is a powerhouse of hope and renewal at a time of great need.
The mother of Jesus Christ is making this unlikely little hamlet the mouthpiece for Her Son's message to the world. It has become a potent instrument for sanctifying all faiths that have the one God as the foundation of belief. The message is simple and direct. It can be understood and accepted by Catholic, Protestant, Moslem or Jew. And, it is meant for all of them.
Simply put, Medjugorje today is a modern-day Bethlehem. It is simple, poor and living under religious and social oppression, just as Bethlehem was 2,000 years ago. Like that tiny insignificant hamlet of its time, Medjugorje has become the new birthplace of a tremendous renewal in the ways of God for a desperately troubled world.
ęCopyright: 1985, Wayne A. Weible
---
FURTHER STUDIES

						

BOOKS							
__   Wounded Heart by Slavk Barbaric, OFM  	$ 8.00
__   Queen of Peace by Joseph A. Pelletier AA  	$ 9.50
__   Pilgrimage by Svetozar Kraljevic OFM     	$11.00
__   Medjugorje Under Siege by David Manuel    	$11.00
__   Up on the Mountain by Fr. Kenneth Roberts 	$11.00
__   Betania, Venezuela by Sr. Margaret Sims   	$11.00
__   The End Times by Maria Valtorta          	$11.00
__   Witness by Joseph Tereryl                 	$12.00
POEM OF THE MAN GOD
__   Volume I   by Maria Valtorta	     	$30.00
__   Volume II  ,,   ,,     ,,			$30.00
__   Volume III ,,   ,,     ,,			$30.00
__   Volume IV  ,,   ,,     ,,			$30.00
__   Volume V   ,,   ,,     ,,			$30.00

				TOTAL BOOKS     $_____

VIDEOS
__   Marian Apparitions of the 20th Century	$24.00
__   The Father's Gift				$22.00

				TOTAL VIDEOS    $_____




WAYNE WEIBLE'S BOOKS-TAPES-NEWSLETTERS



AUDIOS
__   St. James in Medjugorje			$ 5.00
NEW  Pray The Rosary				$10.00  TOTAL AUDIOS  $_____

VIDEOS
__   Living The Message				$22.00
__   Pray The Rosary				$25.00  TOTAL VIDEOS  $_____

BOOKS
__   Letters from Medjugorje			$11.00
__   Medjugorje: The Message			$12.00  TOTAL BOOKS   $_____


NEWSLETTERS yearly  (U.S.)			$14.00
 ,,   ,,    Canada  (U.S. Currency)		$24.00
 ,,   ,,    Foreign (U.S. Currency)		$30.00
Each back issue					$ 1.00  TOTAL NEWS    $_____

 * * * *   ORIGINAL COLUMNS * * * * *
__      10 copies				$ 5.00
__      25 copies				$ 9.00
__      50 copies				$13.00
__     100 copies				$18.00
__     500 copies				$23.00
ALSO IN SPANISH					        TOTAL COLUMNS $_____

*** Please do not confuse with the newsletter. Thank you ***


ALL ITEMS WITHIN THE U.S.A. INCLUDES SHIPPING & HANDLING. ** PLEASE NOTE 
ADDITIONAL CHARGES WILL BE ADDED FOR S/H & INSURANCE FOR CANADIAN & 
FOREIGN ORDERS. ** ALL ORDERS OUTSIDE U.S.A. PLEASE WRITE AHEAD FOR 
SHIPPING CHARGES.
                   **** U.S. CURRENCY ONLY PLEASE ****

Checks payable to WEIBLE COLUMNS, INC., P.O. BOX 2647, Myrtle Beach, SC 
29578. Payment or credit card info must accompany order. For phone orders 
(credit cards only) Call (803)626-4940
	Name________________________________________________________________
	Address_____________________________________________________________
	City________________________________State______Zip__________________
	Phone:______________________________________________________________
	MasterCard__Visa__Exp.Date:_________________________________________
	CreditCardNumber____________________________________________________
	Signature Required if Paying by Credit Card:




---
Recent Messages
August 25, 1995
Dear Children,
Today I invite you to prayer. Let prayer be life for you. A family can not say that it is in peace if it does not pray. Therefore, let your morning begin with morning prayer, and the evening end with thanksgiving. Little children, I am with you, and I love you and I bless you and I wish for every one of you to be in my embrace. You cannot be in my embrace if you are not ready to pray every day.
Thank you for having responded to my call.
September 25, 1995
Dear Children,
Today I invite you to fall in love with the most holy sacrament of the altar. Adore him, little children, in your parishes, and in this way you will be united with the entire world. Jesus will become your friend, and you will not talk of him like someone whom you barely know. Unity with him will be a joy for you, and you will become witnesses to Jesus' love, which he has for every creature. Little children, when you adore Jesus, you are also close to me.
Thank you for having responded to my call.
October 25, 1995
Dear Children,
Today I invite you to go into nature because there, you will meet God the creator. Today I invite you, little children, to thank God for all that He gives you. In thanking Him, you will discover the most high and all the goods that surround you. Little children, God is great and His love for every creature is great. Therefore, pray to be able to understand, the love and goodness of God. In the goodness and the love of God the creator, I also am with you as a gift.
Thank you for having responded to my call.
November 25, 1995
Dear Children,
Today I invite you that each of you begin anew to love first God who saved and redeemed each of you, and then brothers and sisters in your vicinity. Without love, little children, you cannot grow in holiness and you cannot do good deeds. Therefore, little children, pray without ceasing that God reveals His love to you. I have invited all of you to unite yourselves with me, and to love. Today also, I am with you and I invite you to discover love in your hearts and in your families. For God to live in your hearts, you must love.
Thank you for having responded to my call.
December 25, 1995
Dear Children,
Today also I rejoice with you and I bring you little Jesus that He bless you. I invite you, dear children, that your life be united with Him. Jesus is the King of Peace, and only He can give you the Peace that you seek. I am with you and I present you to Jesus in a special way now, in this new time when it is necessary to decide for Him. This time is the time of grace.
Thank you for having responded to my call.


---